Fashion Trends and Fabric Craft Projects for the NS-DIY: Not-So-Do-It-Yourself
Fashion Trends and Fabric Craft Projects for the NS-DIY: Not-So-Do-It-Yourself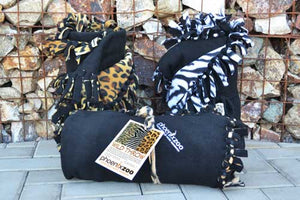 The internet is such a wonderful tool. Things that were once out of reach or took time and effort to obtain are now all in reach at your fingertips. Because I have been sewing for quite some time, I am particularly interested in new trends in fabrics, new fashions and textile designs.  I am also equally intrigued by what these beautiful, colorful, exciting new textiles and fabrics were meant to make.  Seeing these unique and artistic creations on sites such as Pintrest can be so inspiring – until you try to "Do-It-Yourself."
Though I can sew, I do not consider myself artistic. Therefore a lot of what I find and may want to try seems so out of reach.  If this sounds like you, you have come to the right place.  Here you will find my personal collection of fashion and craft projects using fabrics, textiles, and items that are inexpensive and easy to find.  I have chosen DIY projects of many sorts that are truly simple enough for anyone to do and be proud of the results.
My first project has already been posted: How to make a No-Sew Fleece Blanket.  This particular project requires no sewing at all and will make a beautiful piece for personal use or as a gift that is guaranteed to get used.  See it for yourself. On our website, you will also find a large variety of fleece patterns and colors to make your personal creations.
We hope you take time to watch the video and become motivated to make your own.  Stay tuned for new and easy DIY projects to come, and as always, Be Inspired!